Children's and Teenagers' Courses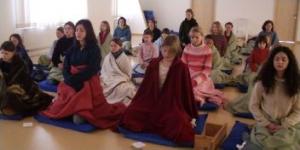 Special 1-day courses for children and teenagers are offered in rented sites in Finland. Children and teenagers exercise Anapana which is the first step of Vipassana meditation. They learn to focus their attention on natural breathing over a longer period of time. During the course, periods of meditation are mixed with periods of play and creative activities. The schedule for 1-day children's courses in Finland can be seen here.
Anapana meditation helps to strengthen the ability to concentrate and to be mindful. On top of that it can have many positive effects on a young person's mental attitude and his/her everyday behaviour. Anapana can foster inner strength and can help to make better decisions. Many of the children and teenagers who have taken a course report that their ability of remembering has improved, and that Anapana helps dealing with anxieties and finding inner calm and contentment.
More information can be found on the menu on the left and on the international children's course homepage.